Immerse yourself in the baroque world of Rembrandt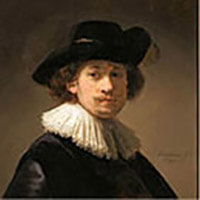 To follow in the footsteps of the painter Rembrandt, it is necessary to travel to Holland where the latter was born in 1606. From his work, we retain great humility and the image of a talented man, guided by faith and transcending his humanity with brushstrokes.
Birth of a Baroque genius
Rembrandt was born into a large family. His parents, accomplished craftsmen, raised their children according to strict religious principles. This past easy, composed of faith and passion, shines through in the different paintings that he signed during his life. Very early on, the young Rembrandt revealed himself to be particularly sensitive to art and discovers promising gifts as he enters an ungrateful age. These same gifts will open the doors to apprenticeship with a great master of his time, while he is only a teenager. Amsterdam then becomes the privileged witness to the event. of Rembrandt's beginnings in the field of painting and engraving.
A meteoric rise
Multiple artists devote their lives to their creations, but only reap the laurels very late in their career, even after their death. This was not the case for Rembrandt who enjoyed, from 1631, a reputation that many envied him. However, this success was well deserved. It was the fruit of hard work. and an innate talent undeniable. It was also during this period that the painter Rembrandt received a commission of the greatest importance. He took charge of the creation of a portrait of Charles I of England.
The Muse
The painter therefore had the chance to make a living from his passion at a very young age, working successively for numerous corporations in his city. These countless requests allowed him to meet all the beautiful people in his region and, in fact, to meet a woman: Saskia. Sensitized to art since childhood, thanks to an art dealer uncle, young Saskia became the model for the painter Rembrandt. From a model, she became a muse, lover and companion. The couple acquired a house where they lived. live their love fully, in 1639. This home which was theirs is none other than the current Rembrandt Museum.
Rembrandt and religion
While he experiences a beautiful love with Saskia and enjoys growing success, Rembrandt develops his art. An art that depicts the major place that religion occupies in the heart of the painter. His work therefore consists of:
multiple self-portraits,
landscapes,
biblical themes.
1642: Rembrandt wears mourning
The year 1642 saw the disappearance of part of the absolute happiness in which Rembrandt previously lived. The painter sees himself forced by life to mourn his wife. From this marriage, four children were born, three of whom unfortunately died when they were only infants. Rembrandt therefore finds himself alone with a son whom he entrusts to his care. a nanny, while he masterfully manages his career and continues to increase his fortune. Rembrandt lived through his widowhood by leading a lavish lifestyle. He works to He assembled a remarkable art collection and ended up creating an unprecedented scandal by falling into massive debt. Rembrandt also moves in with his child's nanny, creating a new unease within society. in which he evolves.
The artist in turmoil
The loss of three of his children, as well as the death of his wife, had a profound impact on him. the painter who fails to achieve go back up the slope. His debts are increasing, forcing him to pay more. put up for sale, residence and valuable goods. These financial troubles end up harming the company. his reputation is usually more than honorable, which contributes to the total decline of the painter. Rembrandt breathed his last in 1669, living a life of extreme poverty.
Rembrandt, an extraordinary work
Despite the torments experienced by the painter, Rembrandt's life will have been entirely dedicated to his art. This is why, the humanist and humble man that he was, left him behind. behind him a collection of priceless paintings. His work consists of:
300 etchings,
300 drawings,
400 paintings.
His most important works
Although the entire work of the painter represents a major interest in the world of art, certain paintings particularly demonstrate the immense talent of their author.
Doctor Tulp's anatomy lesson
Made in 1632, this work features one of the eminent members of the surgeons' guild, Doctor Tulp. The latter is presented, in front of an audience of colleagues, leading to well an autopsy. The painter wore particular attention to the hands of its main character, establishing, through his finger, a dignified, refined and professorial posture. This painting depicts an important turning point for medicine. At the time, public dissections were rare, a fact in complete contradiction with the general public's interest in medical advances. The human body, its functioning and its capacities represented fascinating subjects in the eyes of populations.
The painter created "The Pilgrims of Emma\uuml;s" during the year 1648. As his name suggests, indicates, the biblical theme, so dear to us Rembrandt is omnipresent there. The resurrection of Christ has just taken place. This painting, sober and intimate, presents a Spartan inn room. On his bed, the artist deliberately painted Christ as a man, and not as the child of a divinity. We discover a weakened, calm man, slightly haloed. of light. Thanks to a flawless technique, the painter manages to achieve; harmoniously marry the concept of humanity and of God.
A study of aging over time through his self-portrait
During his life, he painted around forty self-portraits. The best known being that of 1657 which depicts an aging, humble man with a kind gaze. If this painting has had such an impact on minds, it is because of the technique used to make it. Through this simple painting, the artist demonstrates to perfection in his mastery of "Chiaroscuro". Why so many self-portraits for a man so disinclined to take pictures? vanity ? On his canvas, the painter simply keeps his diary. A diary of a busy, sometimes painful life. It signals the aging of a man. Each canvas marking an evolution of the artist.