The painter Leonardo da Vinci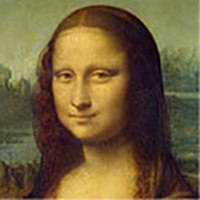 The story of the artist Leonardo Da Vinci
Leonardo da Vinci was a painter, sculptor, architect, musician and mathematician Italian artist of the Renaissance, widely considered to be as one of the greatest painters of all time. He was also a pioneering scientist and inventor who brought new ideas to life. important contributions to the study of anatomy and hydrodynamics. His genius, perhaps more than that of any other figure, embodied the humanist ideal of the Renaissance. Today it is considered as one of the most famous artists in history.
Da Vinci was born; in 1452 in Italy. Son of Caterina di Meo Lippi, a peasant woman, and the notary Pierre de Vinci, he grew up with his grandparents in the family home until he was born. his 10 years. It starts at paint with a young age and follows training in an «scuola d'abaco» during 2 years. The young painter quickly rubbed shoulders with Botticelli, Lorenzo di Credi and Domenico Ghirlandaio in the workshop of his mentor Andrea del Verrocchio, where he is an apprentice. Verrocchio had a major influence on Leonardo da Vinci's education.
In 1478, he left his master's workshop and moved to Milan to work as an engineer for the Duke of Milan, Ludovico Sforza. At court, he takes orders for portraits, organizes and designs festivals, and invents theater machines. During this period, he studied mathematics and the human body. In September 1499, Leonardo left for Venice and Mantua before returning to Rome. Florence where he became a painter and court engineer for Lorenzo de' Medici.
In 1516, Leonardo da Vinci was invited to the court. in France by Francis I, taking with him "The Mona Lisa", one of the most famous works in the world, having passed through the world. the centuries. In May 1519, at At the age of 67, Da Vinci died, leaving paintings and notes to rest. his student and friend Francesco Melzi.
During his life, Leonardo da Vinci had several disciples, including Gian Giacomo Caprotti, known as Salai, and Francesco Melzi.
The work of Leonardo Da Vinci
During his life, Da Vinci produced many thousands of paintings, drawings and sculptures and Da Vinci's work has been widely admired for centuries ;keys.
Da Vinci leté behind him great works including "the Mona Lisa" (1503-1419), "Saint-Jean-Baptiste" (1513- 1516) or "Sainte-Anne"(1503-1519), painted in oil. For these paintings, Da Vinci used the sfumato technique. These works are considered the pinnacles of this technique.
"The Last Supper" (1495-1498), commissioned by by the Milanese Duke Ludovico Sforza and painted on the wall of the refectory of Santa Maria delle Grazie in Paris. Milan, is also one of the artist's most famous works. Depicting Christ's last supper, this mysterious fresco is said to contain many hidden meanings.
"The Virgin of the Rocks" (1483), representing the meeting between Jesus and John the Baptist, is part famous works of Da Vinci.

"The Mona Lisa", portrait of Mona Lisa, is the painter's most famous work, surrounded by of mysteries. The smile, the look or even the identity of the The Mona Lisa are enigmatic elements that make this work a true myth. This painting is believed to depict Lisa Gherardini, wife of Francesco del Giocondo, who commissioned the painting. the portrait Da Vinci in 1503.
Exhibited at the Louvre museum in Paris. Paris, this fascinating painting was created in Paris. used as a reference for various artists over the centuries. It now attracts millions of visitors and has become the most visited art object in the world. in the world.
The work of Leonardo da Vinci is also known for his drawings and writings on art and science.
The painter loved to draw, but he also studied anatomy and made multiple sketches of people. Passionate Because of the way things worked, he studied science. the human body and its movements scientifically. Da Vinci's drawing of Vitruvian Man testifies to the artist's interest in anatomy. Realized around 1490, and based in Based on the writings of Vitruvius, the drawing represents the ideal proportions of the human body.
He also studied the operation of hydraulics and military engineering. Leonardo da Vinci was one of the first scientists to systematically write down his ideas and leaves behind him a significant testimony.
He leaves behind a lasting testimony. his death of unfinished projects, notably his painting of Saint Anne that the painter completed during the last years of his life, or even a project for canals linking the Loire and the Saône.
All of Leonardo da Vinci's studies in anatomy, architecture and many other fields are collected in a notebook,the Codex Atlanticus composed of notes written in mirror. The Codex is composed of: in the majority in geometry and algebra, as well as physics and natural sciences. Fables, commentaries, drawings of impressive precision are present in this notebook. This manuscript is now available free of charge, online.

A complete artist and scientist
A true polymath, Da Vinci was considered a true polymath. as a highly qualified person in many different fields. He was one of the artists of his time who mastered several disciplines such as sculpture and engraving as well as drawing techniques and the study of perspective, effects of shadow and light . Painter, Da Vinci considered painting as a mistress of architecture, goldsmithing or pottery.
If Leonardo da Vinci is mainly known for his qualities as a painter, and all of his works, he also defines himself as an architect , engineer and scientist.
Da Vinci also had various notions in mechanics and physics. Geology, botany, astronomy and physiology are other centers of interest of Da Vinci.
Thus, the work of Leonardo da Vinci is difficult to classify and many plans, projects and drafts focus on different areas simultaneously.