Can creativity according to Jeppe Hein save us?

August 2022 | Temps de lecture : 21 min | 0 commentaire(s)
About Jeppe Hein's participative installations "Récits de Champagne", which will be on view at Art Basel in Switzerland from 16 to 19 June, and his exhibition "Distance", which will be on view at the Konschthal Esch in Luxembourg from 18 June to 4 September.
Because one day he realised that the solution to being well was within himself, Jeppe Hein decided to put his art at the service of the blossoming of all. And to lead his dance. At his own pace. The Danish contemporary artist, heir to the conceptual and minimalist art of the 1970s, who now lives in Berlin with his wife and their four children, has returned from a burn-out that left him bereft ten years ago. His iconic labyrinths of mirrors, water pavilions and biscornus benches had brought him international acclaim following his studies at the Royal Academy of Fine Arts in Copenhagen and the Hochschule für Bildende Künste in Frankfurt. But "nothing was going right. But "nothing was going right, I was doing one project after another, I couldn't find any meaning in what I was doing and I was destroying myself: I stopped everything," he confided to Patricia Boyer de Latour, who went to meet him in his Berlin studio for Connaissance des Arts, prior to the presentation of two of his installations at Art Basel, the main fair for the international art market, as well as his exhibition "Distance" at the Konschthal contemporary art space in Esch-sur-Alzette.
The ordeal led Jeppe Hein down the path of the Zen masters, Taoist readings, yoga and psychoanalytical diving into childhood. A source of creativity. "My parents divorced when I was five and I lived with my father, who was very busy with his job as a teacher of problem children. Who cared about me? I was in my own world, I drew a lot. My mother lived elsewhere... I suffered for a long time, looking to my partner for a serenity that I never had... And then I understood that it was up to me to find it within myself, and my art was transformed.
Far be it from him to position himself as an art therapist or a guru of any kind! Since then, Jeppe Hein's idea has been simply to invite viewers to explore their own creativity by devising poetic experiences for the public, inspired as much by children's games as by the Asian teachings he has followed in terms of zenitude. Visitors to the "Breathe with me" installation can pick up a large paintbrush in front of a huge white canvas, dip it into a pot of blue paint and draw lines up and down to the rhythm of their breathing. Those in 'Frequency Watercolours' will spin a gong on the sides of a Tibetan bowl filled with high-vibrational coloured paint, creating music and droplets that will spread across the large sheet of white paper that houses the device. "Were you a Pollock who didn't know himself? Jeppe Hein does it better: he gives you keys," writes Patricia Boyer de Latour.
| | |
| --- | --- |
| Breathe with me | Frequency Watercolours |
Since creativity saved him, the artist born on 1 August 1974 in Copenhagen hopes it can save many other people. So in his Berlin studio in the shape of a "white cube", behind a glass window covered with his famous emblematic blue smile, Jeppe Hein doesn't hold back. He is delighted that Ruinart champagnes have entrusted him with their Carte Blanche 2022. The official launch of the evolving and participative installation "Récits de Champagne", which he imagined to translate his immersion in Champagne by using fragments of chalk from this terroir and by summoning the four elements essential to the elaboration of champagne, The exhibition took place on 30 March at the Palais de Tokyo in Paris, and the project continued at the Venice Biennale, Gallery Weekend Berlin, Art Brussels, Frieze New York and now in Basel from 16 to 19 June, on the occasion of the famous international art market fair which will bring together more than 250 art galleries. The "Champagne Stories" adventure will continue at Frieze London, Art Basel Paris, Art Week Tokyo and Art Basel Miami... In short, it will be seen at all the world's major contemporary art fairs.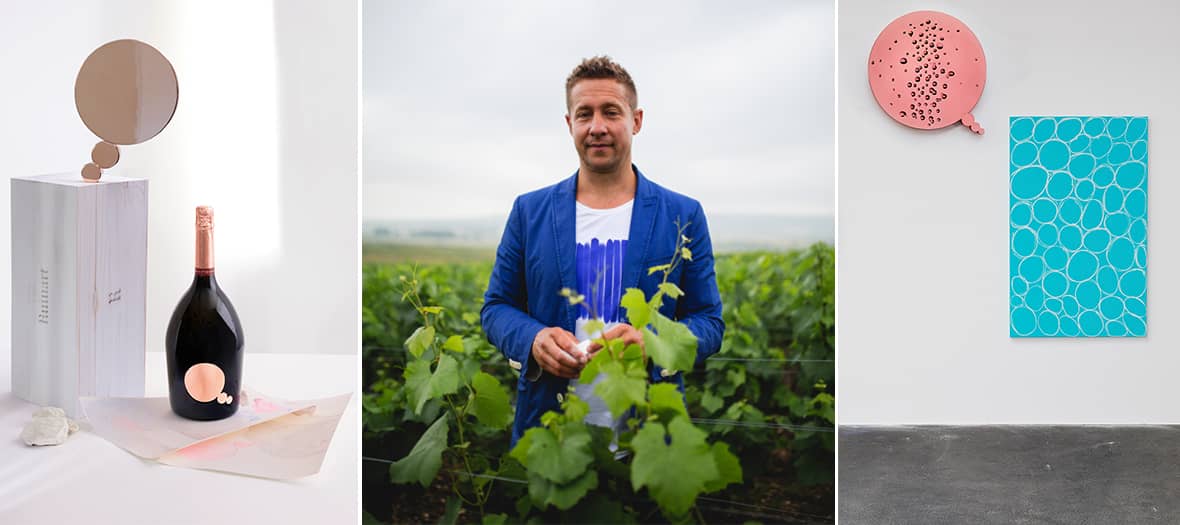 "Récits de Champagne" - Jeppe Hein (Photo credit: Do It In Paris)
The installation consists of a very surreal mirror booth where everyone is invited to plunge their hand in to grab a piece of this fragrant chalk extracted from the Ruinart champagne chalkpits, and then to go and draw their own "Toto head" on one of the coloured panels on which Jeppe Hein has traced bubbles of all sizes, as well as overlaying them with one of his maxims such as "Do you get what you want or what you need? "The answer is within you', 'What if this does not exist', 'Right here, right now'... All revolving around the one question that ultimately runs through the work: who am I? And who are you?
What is certain is that Jeppe Hein is a peaceful artist. With his look of "a cheerful elf looking like Tintin 2.0, with a tender blue eye and a slightly heckled puff", as the journalist from the magazine Connaissance des Arts describes him, he no longer needs to force himself and even less to cheat. He does what he feels like, and not by halves. He did not hesitate to rush to Reims after Ruinart's invitation to understand everything about the art of champagne wine, and to think about the links he could weave with others between champagne, gastronomy and the plastic arts. When the planets are aligned, the doors open.
Thus those of the Konschthal Esch - Espace d'art contemporain, a prestigious new venue recently created in the European capital of culture Esch2022 thanks to the city's purchase of a former furniture shop in 2020, and which today offers Jeppe Hein a total exhibition area of almost 2,400 m2 on four levels. From 18 June to 4 September, 'Distance' will invite viewers of all ages to explore this space in a playful way, based on a modular construction made of steel rails, in line with the desire of this new cultural institution to offer democratic and barrier-free access to today's art. When a visitor enters the room, a sensor reacts and releases a white ball that starts to move and travels the 800 m circuit through loops, tight turns and other dynamic sections... But beware, this is only the beginning!
Discutons !
No one has had the audacity to comment on this article yet! Will you be the first?
Participate to the discussion