Simon Hantaï unfolded and folded

August 2022 | Temps de lecture : 20 min | 0 commentaire(s)
About "Simon Hantaï - L'exposition du centenaire" (Simon Hantaï - The Centenary Exhibition) which runs until 29 August 2022 at the Fondation Louis Vuitton in Paris.
He was called Simon Handl when he was born on December 7, 1922, in Bia, near Budapest. It was his father who changed their surname in 1938. Simon then became Hantaï. The teenager, eager for an artistic education, had to make do with the optional options offered at his technical high school. His father wanted him to be an engineer. But he sculpts. He also paints. A helmeted soldier, for example, or a maid with her apron and clogs. Ah, that apron... That starched apron that the painter would later find in Giotto's "Madonna of Ognissanti", that monumental painting in tempera and gold on wood that would so impress him at the Uffizi in Florence. This apron, which "was the humble seminal form of his future folding and refolding", Colin Lemoine points out in the article in L'Oeil published in June and devoted to "Simon before Hantaï". This apron, above all, which the artist always saw his mother wearing.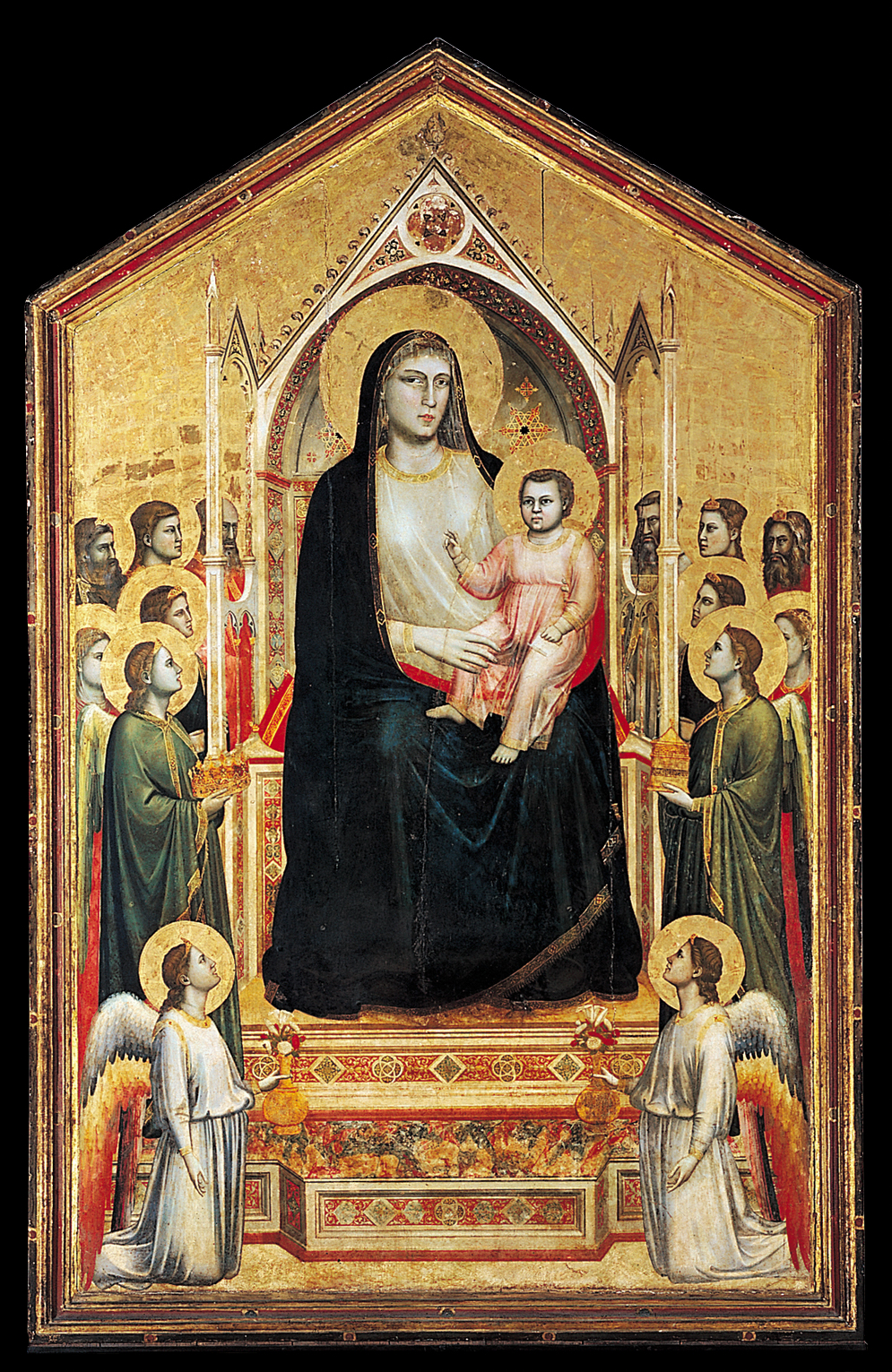 "Giotto's" Madonna of Ognissanti
"As the ironing progressed, the colours changed and became as velvety and shiny as the finest fabrics in the world. My mother always said that if the work was well done, you could take the apron, look at yourself in it and see yourself as if in a mirror," wrote Simon Hantaï (1922-2008) on the occasion of the first major Parisian retrospective devoted to him by the National Museum of Modern Art in 1976. For he never became an engineer. At the age of 19, he was brilliantly admitted to the prestigious Academy of Fine Arts in Budapest. Even his father had to bow to his unfailing determination. Judit Reigl, who would become the great painter we know, died two years ago, was one of his classmates. Vera Molnar, who was to become a precursor of digital art and algorithmic art, was also there. The journalist from L'Oeil spoke of an "equilateral triangle of Hungarian modernity, brought together by history before it was scattered". Nothing could stop Simon Hantaï from following his path. Not even the war, which in 1944 led to his involvement in the Hungarian government's collaboration with Nazi Germany, and to his imprisonment.
That year, a young girl named Zsuzsa Biro, who had also just entered the Academy of Fine Arts but with a yellow star, was interned in the Orodea camp in Romania. She escaped just before the convoy destined for her left for Auschwitz. After many ups and downs, the student who was once stigmatised as "the Jew" was able to return to the Academy of Fine Arts in Budapest in 1945, like Simon Hantaï. He fell madly in love with his "woman of fire". With whom he travelled through Italy before settling in France in 1948.
His Hungarian friends were there: the Szekely's, the Molnar's, Judit Reigl... But Hantaï also befriended American painters such as Joan Mitchell, Sam Francis or Riopelle. And he remained fascinated by the work of Matisse and Bonnard, whom he had met in Hungary thanks to his art history classes. He and Zsuzsa also admired Picasso's "Les Demoiselles d'Avignon" and "Guernica" at the 24th Venice Biennale during their grand tour of Italy, discovering modern European painting in the process. This trip also took them to Ravenna, where the mosaics of Galla Placidia's mausoleum were a real revelation for Hantaï.
In Paris, in addition to visiting museums and participating in all the debates on abstraction, figuration and surrealism, Simon Hantaï experimented a lot. Stencilling and cutting, collage, scratching, decalcomania, imprinting and rubbing, colours, and even a little crumpling and folding. It was André Breton who gave him his first personal exhibition in 1953, in the brand new surrealist art gallery "A l'Etoile scellée". There were to be many more exhibitions and art galleries.
This year, the Louis Vuitton Foundation collaborated with the Hantaï family to bring together more than 130 works of art by the painter to mark the centenary of his birth. Works of art, many of which had never been shown before, mostly in large formats, mainly from the years 1957-2000. Just after the 35-year-old Simon Hantaï was expelled from the Surrealist group. And from the moment he started his sign paintings, explicitly dedicated to saints, theologians, thinkers and Catholic poets.
The current exhibition at the Fondation Louis Vuitton, on view until 29 August, therefore takes the famous painting "Ecriture rose" as the starting point for its didactic journey. A monumental canvas measuring 330 x 425 cm, its surface is covered with philosophical, theological or liturgical texts that Simon Hantaï has copied in ink, the colour of which varies according to the cycle. He has also noted the date of each day in black ink, and has also inscribed the years of his life on the canvas.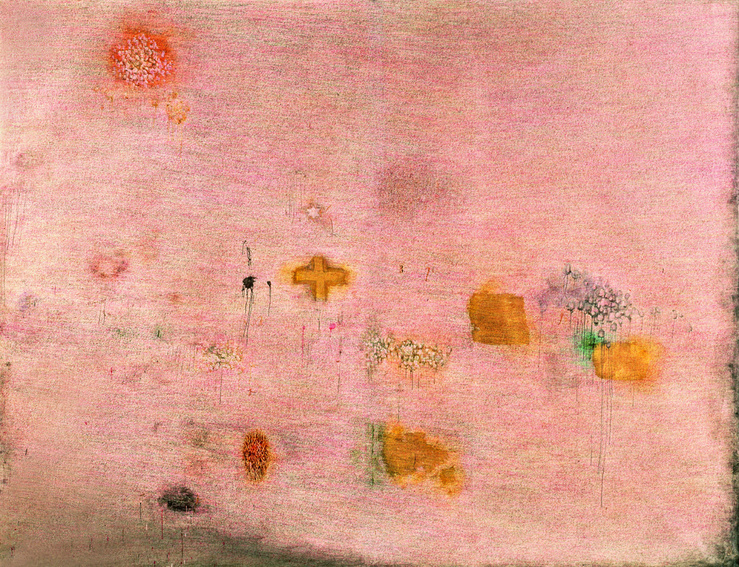 Pink Writing - Simon Hantai
The major successive periods of his work then unfold in the course of the exhibition designed by Anne Baldassari, the former director of the Musée Picasso in Paris and general curator of this centenary exhibition. After the "Sign Paintings" and "Monochromes" come the "Mariales". Hantaï then completely abandoned writing and gesture. Once the canvas was crumpled from edge to edge, the visible parts were painted before being unfolded and stretched, creating a completely covered space. This was followed by "Catamurons", "Panses", "Meunes", "Etudes", "Blancs", "Tabulas" (with which he represented France at the 40th Venice Biennale), "Peinture polychromes", "Sérigraphies" and "Laissées pour compte"... until the "dernier atelier".
Simon Hantaï's artistic influences have of course not been overlooked. Paintings by Henri Matisse and Jackson Pollock can be seen side by side on the walls, while a new intervention by Daniel Buren, entitled "Mur(s) pour Simon, travaux in situ et en six mouvements" (Wall(s) for Simon, works in situ and in six movements) is also presented in the exhibition. The exhibition is as much a tribute to Hantaï as an evocation of the friendly and professional relationships that Simon Hantaï established in the early 1960s with the young artists around him at the Cité des Fleurs, including Michel Parmentier.
Unable to tolerate any more compromises with institutions and the contemporary art market, Simon Hantaï, the artist of integrity, had chosen to withdraw into himself from 1982 onwards. The originality of the exhibition at the Fondation Louis Vuitton allows us to discover his work throughout this period, particularly his latest research, which is little known.
Discutons !
No one has had the audacity to comment on this article yet! Will you be the first?
Participate to the discussion