Who was the painter Eugène Delacroix?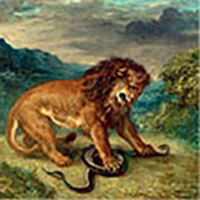 Official representative of the artistic movement that is romanticism, Eugène Delacroix knew how to mark his The period through his paintings that were both dazzling and powerful, but also dramatic and sometimes even shocking. Throughout his life, he found his inspiration in the events that crossed his path as well as in his numerous educational trips. Today considered an emblematic painter, his journey has not always been simple, but the obstacles that have punctuated his path have never slowed down this great movement. ;veur.
Youth of Delacroix: between joy and drama
It was in 1798 that Eugene Delacroix, future emblematic figure of Romanticism, was born in the town of Charenton-Saint-Maurice. His mother Victoire Œben is the daughter of a renowned man. Cabinetmaker who worked for Louis XV, while his father Charles Delacroix was in turn. minister, ambassador then prefect. Although the painter had a generally happy childhood, tragedies tainted his life. He will first lose his progenitor at the end of the year. At the age of 7, this death will lead to the move of his mother and him to move. Paris where he will experience his first artistic months. A few years later, it was the turn of his older brother. to pass the weapon to left, then his mother in 1814 and finally his sister 13 years later.
However, a real opportunity offers itself to him in 1815 thanks to his uncle Henri Riesener. He will join a workshop led by by Pierre-Narcisse Guérin who has already guided many painters. His beginnings will be particularly difficult, but his meeting with Théodore Géricault, with whom he will form a friendship. precious, will allow him to hold on.
Debut in the art world
Eugène Delacroix will devote himself fully to painting with from 1819. To create his first works, he drew his inspiration from artists like Raphaël, Guerchin or even Michel- Angel. He will slowly free himself from the shackles of classical learning to move towards more colorful and brighter creations. He will then join the painters called the romantics.
Wanting to alleviate his financial difficulties, he sent one of his paintings to the Salon, despite the fact that the Guérin's disapproval. It was therefore in 1822 that Delacroix stood out with his painting "Dante's Boat" (also called "Dante and Virgil in the Underworld") . After wiping multiple criticisms, sometimes harsh, it is a dazzling success that awaits the painter.
Following the romanticism movement, Eugène Delacroix continued his momentum by creating ever more ambitious and impactful works. In 1824, he presented "Scenes of the Massacres of Scio" which earned him even more diatribes. Judged too violent due to the representation, the composition and the colors used, the painting will still charm big names like Victor Hugo and Alexandre Dumas.
Freedom guiding the people, a symbolic picture
Vinced by the return of the monarchy in 1815, the rights of the people were once again violated in 1830 by the signing of new laws aimed at suppress freedom of the press. This decision will lead to the discontent of Parisians who will start a revolution. Called the Three Glorieuses because of its short duration of three days, this one will mark despite all minds. These are the events that will be on the agenda. the origin of Delacroix's most famous painting: Liberty leading the people.
Wishing to highlight the people and their combativeness, he will draw individuals from various social classes, whether women or men or children. At its center, reigns the allegory of freedom. leading the supporters towards the revolution that will put an end to the monarchy. Far from his usual romanticism, the painter nevertheless won a prize for his work.
Freedom leading the people will be exhibited at the Luxembourg Museum following the exhibition. the purchase of Louis Philippe. Unfortunately, his painting will only stay there for a very short time. cause of events disturbing public order in the streets of Paris. Fearing that it would encourage more uprisings, she was forced to take action. Eugène Delacroix in 1839. The latter took advantage of the Universal Exhibition of 1855 to again show his canvas to art lovers. It will finally return to the Louvre which will display it continuously at any time. from 1874.
Universal Exhibition: artistic consecration
After numerous trips, notably to Morocco and Algeria, which will be decisive for the representation of his landscapes, he returns to France for the Universal Exhibition of 1855. It was the opportunity for Delacroix to exhibit more than thirty of his paintings to the general public alongside his paintings. other renowned painters. Its opening will be crowned of success since he will be rewarded with an honorary prize from the Universal Exhibition. Two years later, he finally joined the Institut de France. the result of many negative responses.
The end of Delacroix
After his last Salon in 1959, Eugène Delacroix continued to paint tirelessly. However, his state of health has changed. will quickly catch up with him and he will end his days with the only company of his faithful housekeeper Jenny. He officially died on August 13, 1863 from tuberculosis contracted years earlier. Even after his death, the painter did not stop being talked about negatively by personalities belonging to the art world, but he left his mark on a new generation of artists. artist approving his talent.